Hi! I've really been in a big blogger mood today. Maybe it's because I actually did something today. First I had to pick up my sports physical form in order to play volleyball. Anyone else play volleyball? Anyways, then I went out to lunch. Then we had to pick up my uncle so that he can move. (my uncle is moving to a new house). Thank gosh.
And,
I have the song "Moves like Jagger" by Maroon 5 and Christina Aguilera stuck in my head. So now that I'm home sitting down with my laptop. It's blogger time. Even if no one reads my blogs, I'll continue to do it for the fun of it. Well anywho let's get into this. This is the picture of Blake Lively that we are taking from day to night :)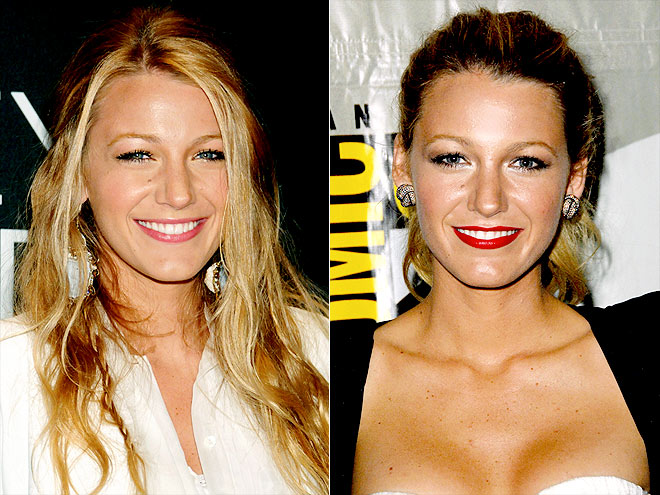 I have no idea what exact products Blake wears, I just guess.
Picture borrowed from www.people.com or people magazine.
Just so everyone knows, I have no clue what products, Blake Lively and her makeup artist use but I am giving you a dupe list. A dupe list is basically just a list of drugstore products that work just as well. Let's move along shall we?
Foundation: Something light but has lots of coverage.
Concealer: Again, something light.
Eyeshadow: A natural almost skin tone matching pinkish orange.
Eyeliner: Subtle, but smudged on the bottom outward.
Mascara: Spider-like trend in Very Black.
Blush: Light Pink.
Lips: Strawberry color. Too dark to be a nude or pink, so I'd say a strawberry or extremely dark light pink.
Bronzer: Totally small amount, just enough to contour the face and bring out her natural features.
Hair: The signature Blake Lively Beachy blonde waves with skinny twists throughout.
Fashion: White Top. Chunky light aqua, square earrings.
Alright now let's bring that look into the night!
Foundation: Same
Concealer: Same
Eyeshadow: Sweep a bronze color over the pink followed by a sweep of brown shadow.
Eyeliner: Add a bit more liner to the top and bottom and smudge severely and wing out once.
Mascara: Apply two more coats of the same mascara and wing out.
Blush: A dark peach color.
Bronzer: Lots but not too much, because she still has the same color to her face as the first picture.
Lips: Bold red.
Fashion: Black and white dress? And chunky sparkly studs.
I hope you all enjoyed this Day to Night tutorial!
Xoxo Shenae! :)